Exxor's vision is to connect all the world devices into a single DAG based network. EXX is a cryptocurrency for Internet Of Things.
33% bonus tokens for PRE-ICO 1 EXX = $0.20 USD
Check out

our video

Exxor is a cryptocurrency fine-tuned to provide efficient M2M interactions in the IoT industry. Instead of block chain it uses Directed Acylic Graphs (DAG) which enables zero fees on micro transactions, high scalability and offline transactions. Exxor uses a technology derived by DAG in which every transaction forms its own block verified by two randomly chosen previous transactions.
Technology for
enterprises
By combining IoT data with cognitive computing, businesses can extract valuable insights to improve virtually every aspect of their operations and enable innovative, new business models.
Companies like Samsung & Apple are promising that most of their devices will be IoT compatible by the year 2020.
The Internet of Things
Market size
Millions of IoT Units Installed*
AP Breakdown Millions of IoT Units Installed*
Benefits of
IoT
Integrating the block chain technology with IoT gives us various benefits such as:
A decentralized system where the ledger will be distributed to every entity on the network
A trust system which does not require the entities to know each other on the platform
The ability to provide micro transaction services at considerable speeds due to the elimination of the "middle-man". The collected data can be solved to companies
A higher difficulty of data being tampered due to the big number of nodes present on the network and the Proof of Work (POW) requiring high computational resources for someone to do so
The ability to backtrack previous activities with guaranteed validity thus making it easier to make smart contracts.
Tracking activities and certifications to their genesis phase, such as a supply chain over its whole process so that any physical outcome is accompanied by a 'digital passport' that proves its authenticity and origin (IBM Watson IoT block chain)
Sharing of indelible records with regulatory bodies and insurers
Can be scaled down to make 'smart home IoT ecosystems', with cryptographic hashes of device firmware stored in a bock chain to reduce verification time
Our
Team
Kelvin well-versed in all phases of the software development lifecycle, with a strong working knowledge of algorithms and data structures. Proven success in engineering customized solutions improving business processes, operations and profitability. Mr.Rodgers role at Exxor involves setting strategy and direction, modelling and upholding company's culture, values and behaviour.

Katherine Kaplan

Software Engineer

Katherine Kaplan,

Software Engineer

As a highly skilled, adaptable systems engineer and enthusiastic advocate of emerging technology, Katherine has helped companies better administer their networking environment by providing an efficient Windows server administration. She's transparent, hands on individual who will play a key role in the successful implementation of highly effective systems operations at Exxor.

Nicole Smith

Design & Marketing

Nicole Smith,

Design & Marketing

A true professional with an extensive experience in web design, product marketing and PR.  Nicole's strong analytical skills and problem-solving abilities together excellent multi-tasking capabilities landed her an important role at Exxor of supervising public relation and brand awareness strategy and execution.

Tobby Moss

Block chain engineer

Tobby Moss,

Block chain engineer

Before joining Exxor, Tobby worked as a software engineer at blockchain solution provider, where he acquired knowledge of server management of various blockchain node types such as Bitcoin and Ethereum.  Tobby also holds a degree in Computer Science from UCLA.

Sasha Ivanov

Network admin – Software Engineer

Sasha Ivanov,

Network admin – Software Engineer

Top performing, multilingual and skilled IT professional with over 10 years of experience as Network Analyst and Administrator. High expertise in the design, installation and configuration of network systems to drive company growth and technical innovation.

Tz-Lu Tai

Blockchain & Software Engineer

Tz-Lu Tai,

Blockchain & Software Engineer

A true enthusiast of cryptocurrency and emerging technologies.  His specialities involve J2EE, SOA, Distributed Architectures, BPM, CRM products as well as experience in Agile and Waterfall Methodologies. Tz-Lu is a big believer and activist of IoT technologies, his background in blockchain and data-driven solutions development brings a lot of value to Exxor.

After 7 years in JP Morgan and Macquarie Group within Market Operations & Settlements areas on SWIFT messaging system, Wendell decided to focus on blockchain and cryptocurrency consultations. He's now active follower of crypto-technology innovations and prolific trader of digital assets.

Archie Alexander

Blockchain Engineer

Archie Alexander,

Blockchain Engineer

A true believer of the Internet of Things. Archie has been developing blockchain solutions at Sparkle Technology since 2013. He's been following IOTA development since its inception, which allowed him to acquire deep understanding of DAG and its possible applications. Archie's role at Exxor includes but is not limited to building software's interface.

Mr.Grey is in charge of supervising the execution of our company's marketing strategy, building key strategic partnerships with business clients and initial adopters of Exxor technology. Organized a variety of different events, including sales events, lesson showcases, and free classes and clinics. Events eclipsed 200 attendees and $175,000 in direct sales.

An accomplished software developer with a proven record of designing and building solutions for data-driven businesses. Henry's role includes overseeing all system design and changes in system architecture, maintain current knowledge of technology landscape and developments especially in IoT industry. Henry's proven experience in taking inniative in thought leadership, innovation and creativity in his past roles is not fully evident at Exxor.
Our
Advisors
Akhil Khare  has published more than 100 research papers in journals and conferences.. His areas of interest are Computer Network, Software Engineering and Multimedia System.

Ankit Lodha is Analytics Operations Lead in Clinical Application & Analytical Services (CAAS) at Amgen. Within Amgen he has worked on R&D and Commercial Analytics. Before this positon, he has provided strategic consulting services, supporting the analytics, data reporting, and data management needs of senior leadership at AstraZeneca and Pfizer.

Elias Yaacoub received the B.E. degree in Electrical Engineering from the Lebanese University in 2002, the M.E. degree in Computer and Communications Engineering from the American University of Beirut (AUB) in 2005, and the PhD degree in Electrical and Computer Engineering from AUB in 2010. He worked as a Research Assistant in the American University of Beirut from 2004 to 2005, and in the Munich University of Technology in Spring 2005.

Rizwan Patan is a Teaching Cum Research Associate at School of Computer Science and Engineer ing, VIT University. Received the B.Tech. And M.Tech. Degrees in Computer Science and Engineering from the JNTU-A University in Andhra Pradesh, India in 2012 and 2014, respectively. Present doing Ph.D. in Computer Sciences and Engineering from the VIT University in Tamil Nadu, India.

Harry Foxwell is an Associate Professor at the Volgenau School of Engineering, George Mason University, in Fairfax, Virginia. His earlier career includes serving as Principal System Engineer for the Oracle Corporation's Public Sector Division.

Nishchol Mishra was born in Vidisha, India, in 1977. He received the B.E. degree in Computer Sci ence & Engineering from the Barkatullah University, Bhopal, India, in 2000, and the M.Tech. and Ph.D. degrees in Computer Science & Engineering from Rajiv Gandhi Proudyogiki Vishwavidyalaya (RGPV), Bhopal, India, in 2003 and 2014, respectively.
Hard Cap:
$23 900 000 USD
Minimum goal:
$2 000 000 USD
Maximum amount of tokens issued:

10 000 000 EXX

EXX token price (equivalent)* :

$0,20 USD

Start date:

2017/10/12

End date:

2017/10/26
Maximum amount of tokens issued:

73 000 000 EXX

EXX token price (equivalent)* :

$0,30 USD

Start date:

2017/10/30

End date:

2017/12/30
* Exchange rates are calculated at the time of the transaction
83 000 000 EXX (83%)
devoted to public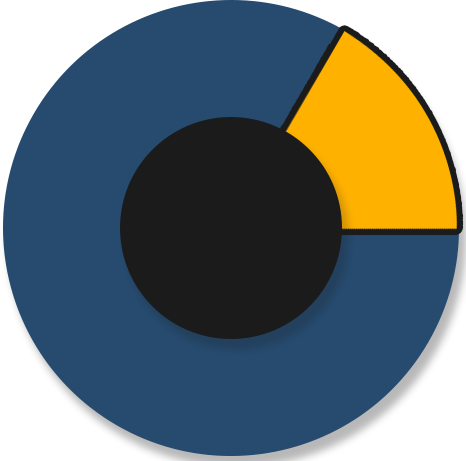 Total EXX token supply
100,000,000 EXX
17 000 000 EXX (17%)
devoted to the team
Exxor
Advantages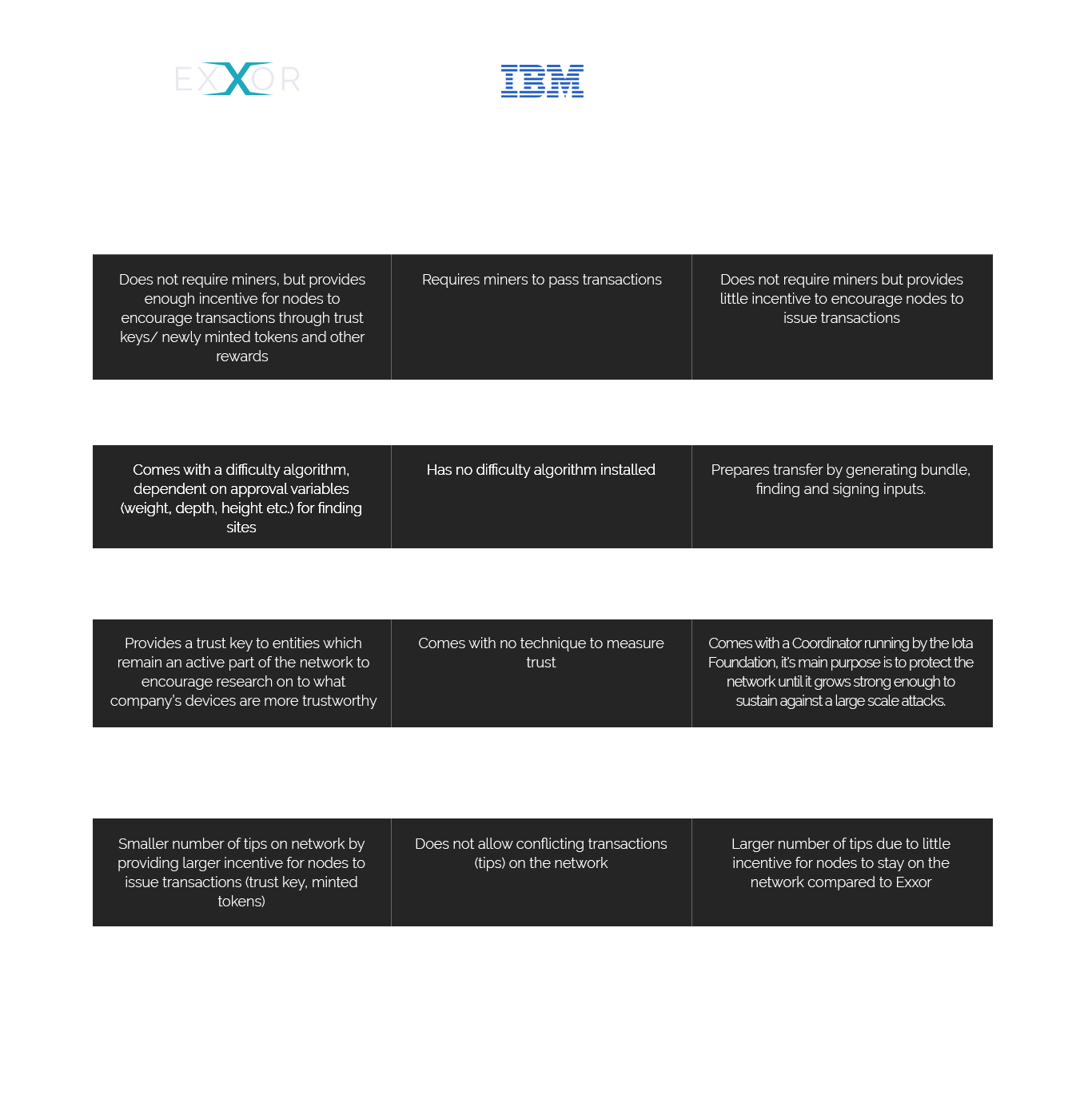 Why
Exxor?
Exxor core technology is Directed Acyclic Graphs (D.A.G). For Internet of Things, D.A.G. is much more effective than Blockchain.
D.A.G.

vs Blockchain
Scalability
0% even for microtransactions
Hardware & Electricity Resources
Currently the Bitcoin's transaction fees have reached $1 USD & it consumes electricity power that's worth more than $2 Billion USD annually
Exxor is building a community to expand this project together.
If you are a talented developer, welcome to join us!
<!- SCRIPTS ->